WHAT IS AN ACHIEVEMENT?
Each bullet point on your CV should show how you made a difference in your role, not the title you had on your business card. It takes multiple iterations and a lot of refining to nail the shift from roles to fact-based achievements, but the difference is striking, as shown by the following example:
Role oriented
"Organized monthly review meetings with CEO, set agenda and sent updates to top management"
Fact-based achievements oriented
"Streamlined intra-company communication flows by organizing weekly review meetings with the CEO, identifying key issues to be discussed and aligning all top management"
Even if content is the same, the rephrased version shows the way in which you brought change to the company, and thus transforms an executive assistant role such as "agenda setting" into highly appreciated prioritization skills such as "identifying key issues". Below you can find a simple, four steps method that you should follow in your case interviews.
STEP 1: WHAT DID YOU DO?
WHAT THE INTERVIEWER WILL DO:
Create a list of all the things you were responsible for in the roles you held in your professional and academic career together with some key duties you had. For example:
SUMMER INTERN: Schedule meetings with investors
BUSINESS ANALYST: Created excel model forecasting demand
COMMUNICATION INTERN: Helped directors in preparing presentations
CUSTOMER SERVICE ASSISTANT: Responded to customer calls
TREASURER OF UNIVERSITY SOCIETY: Managed funds and introduced new sponsors
step 2: What did you really do?
Create a detailed list covering all of the most important aspects of the key actions you performed, both on you own or as part of a team. The key here is not to overwhelm the reader with minor details, but to give a concise fact-based overview of the steps you took in order to achieve the desired outcome. Avoid general statements, such as increased customer satisfaction, and add figures, percentages, and other quantifiable information to the story. Use numbers: they are the most straightforward action based expressions and stick to recruiters' minds.
Scheduled and coordinated monthly meetings with 3 major investors
Created analytical model forecasting demand with a 90% accuracy rate
Helped 2 directors with market analysis in preparing client proposals
Responded to over 50 customer complaint calls a day
Managed £ 5k funds and introduced 2 new sponsors
step 3: So what?
Reflect on the implications of each of your actions. What results did your actions bring? Always focus on the difference you made vs. the status quo. Think about all the impact you had on the organization you worked for in these key areas: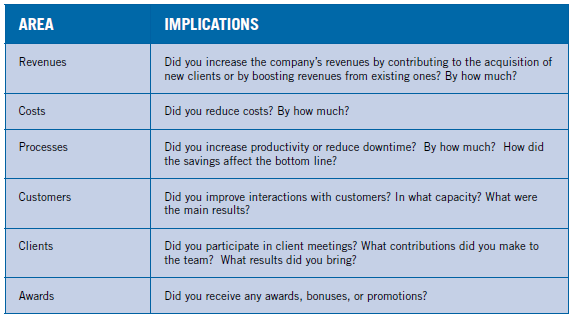 Examples, connected to the previous list could be:
Forging a stronger relationship with 3 major investor funds
Achieving a 30% reduction in working capital thanks to better accuracy in demand prediction, currently implemented
3 new projects sold worth 2 m
Over 85% of customer concerns solved within 3 hours
Increased sponsor funding by 30% by introducing 2 new sponsorship contracts
step 4: Signal skills through achievements
Your résumé is not a one size-fits-all document. Once you created a list of your most significant achievements you should clearly identify the expected set of skills for the job you are applying for. You can link your achievements to the most sought after competences by using the right buzzwords: verbs and nouns popular among top recruiters that signal certain skills. You can find a list of all key buzzwords in our guide, clustered according to signalled skill.
step 5: Synthesis
Finding the right words to describe your achievements is essential. Make sure you don't exceed 2-3 lines for every achievement and insert only the best 3-5 for each role you covered. The following examples show how to build your achievements and link them to your skills: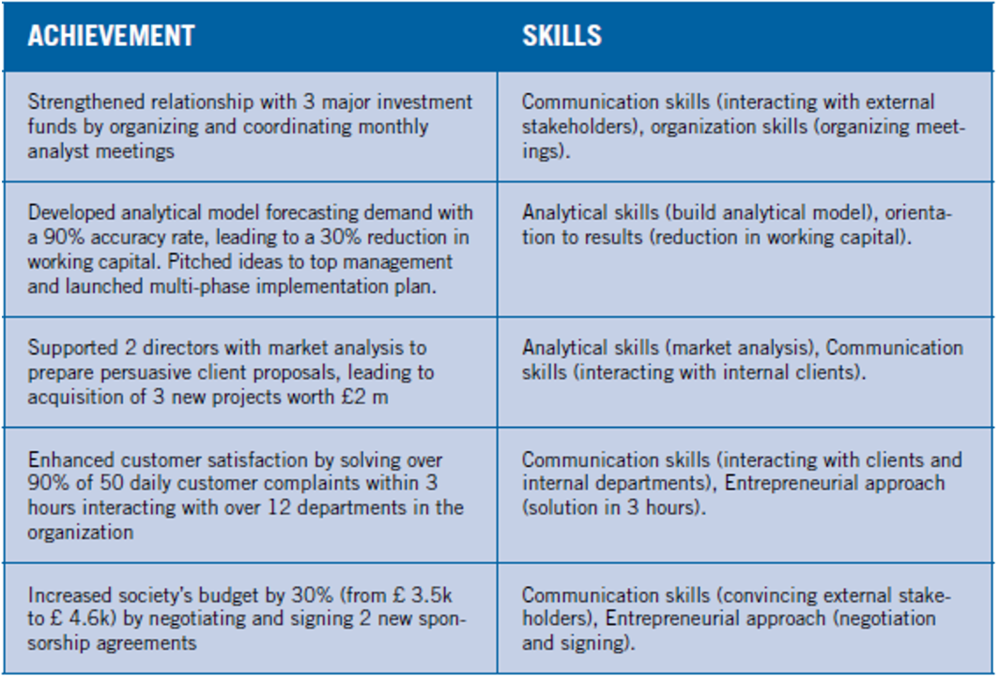 Our editing services: from a good to an outstanding resume
Discover our articles on case interviews
priority-driven vs. framework-driven structure
smart segmentation
CANDIDATE-LED VS INTERVIEWER-LED CASES
CEO-level communication