Practice makes perfect, and a successful case interview preparation will largely be a matter of practice! Case interview examples are a great resource to build your skills and improve performance. Initially, just reading through (or watching - see below!) example cases will help you understand what you are up against. As your interview preparation progresses, you can start solving these cases yourself and then working with others, using example case studies to simulate full consulting interviews.
To kickstart your preparation, this article collects a whole host of free case interview examples. We start with what MyConsultingCoach has to offer before going on to look at other useful sources.

Fundamentals: Learning to solve case studies

Of course, before you can get stuck into cases, your first point of action is to get to grips with what exactly case interviews are, what you are up against and how to prepare for them. Our main Guide to Case Interviews is a perfect start here. In particular, we strongly recommend you avoid the old-fashioned case interview frameworks (Case in Point and Case Interview Secrets are two well known examples), which are still hanging around and trading on name recognition, despite being thoroughly outmoded (we have an article here on why you should avoid Case in Point).
Prep the right way
Learn how to think like a consultant instead of outdated frameworks
Learn more

Down to Business: Case Practice

Now, once you are up to speed with what you need to know and have learnt how to crack cases in principle, there is no substitute for simply putting in the hours and getting through as many practice cases as you can. Eventually, case cracking should become second nature and you will be ready for whatever your interviewers throw at you!
Case Interview Examples from MCC

Of course, before we go any further, MyConsultingCoach provides a whole suite of case interview examples for you to draw upon. Rather than the standalone "paper" cases we list from outher sources below, our case studies can be used interactively within our meeting board for a significantly enhance

Free Case Library - A comprehensive and frequently updated bank of cases covering all styles and subject industries. This is the single best place to practice – whether solo or with a case partner from our meeting board...
Free Meeting Board - When you practice cases with a partner on our meeting board, our system generates objective, quantified feedback across the key aspects of your case performance - simulating how your interviewer will assess you in real life. On your (free) dashboard on our site, feedback will also be displayed in aggregate over all the cases you have practised. The resulting performance tracker lets you see exactly where you are consistently letting yourself down and our system advises the right next steps to address your weaknesses: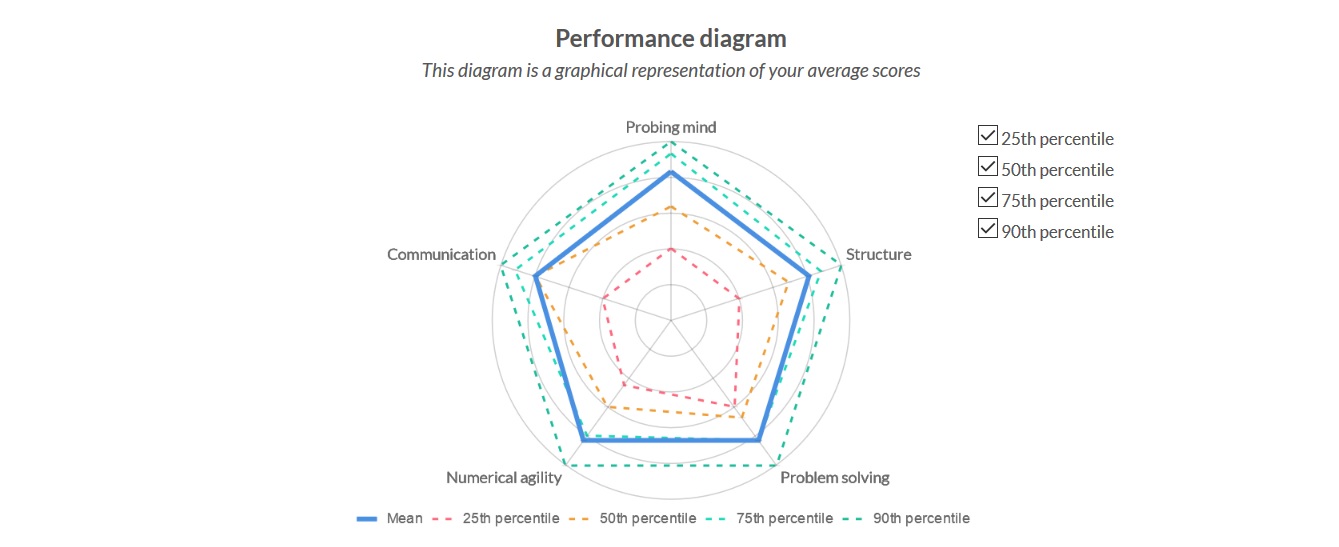 Video Case Examples: Our Case Academy course has example cases interspersed throughout video lessons, as well as specific lessons running through example entire case studies. Included is the McKinsey style interview-led case which you can watch below:
Case Examples from Elsewhere

Now, whilst we make it our job at MCC to provide everything you need for your case interview prep from A-Z, that's not to say there aren't other example cases out there which might be useful in helping you prepare for your consulting interview. We have collated all the other free case interview resources you may wish to check out. These might be useful, for instance, if you are applying to a specific firm and want to have looked at every available case for them. In total, there are over 2000 free cases here; so plenty to keep you busy!
Where can you find example cases?

There are two main sources of good quality case interview examples. The first is the consulting firms themselves. McKinsey, Bain, BCG and other major firms want to see candidates at their best and so publish various example case studies on their sites to help familiarise applicants with the interview style and help them prepare. The other major source is business schools/universities and/or the student-run consulting clubs at those institutions. These often produce large numbers of cases to help students prepare to land management consulting jobs after graduation. Here, we collate the best examples from top institutions.

Formats: Casebooks, Interactive Cases and Case Interview Videos

Some cases are published as individual PDFs. However, the numerical bulk of publically available example cases can be found in casebooks. These can be put together both by consulting firms and by university consulting clubs. As well as a number of example cases, they will often include advice on how to answer case questions in general. In some instances, the cases published by the firms themselves will be interactive for a much more immersive experience. Firms and business schools have also produced some videos either running through case studies or acting out entire case interviews in a realistic setting. These are especially useful to watch at the start of your preparation to get a clear idea of what a case interview is like and what you are preparing for.

Consulting Firm Video Case Examples
These are a great way to get a real feel for what interview day will be like.
Bain

Bain, in particular, have a couple of excellent videos showing what case interviews look like and how they are assessed:
L.E.K.
LEK also produce some excellent case study videos:
It is worth mentioning that, beyond these example cases, consulting firms often put out a great deal of other useful video content, covering other aspects of the selection process as well as like in the firm and explaining consulting projects they have been engaged on. As such, consultancies' YouTube and similar content can be well worth a look for applicants. Certainly, the video format can help to give you a better "feel" for the companies and the subjects they are talking about beyond simply reading cold, hard text.


Individual Cases from Consultancies
Now, on to more typical sample cases. We'll start with individual cases. Some of these are simply PDF downloads, but several are more immersive, interactive experiences.

Everything you need in one place
All the most up-to-date resources delivered as a MBA course
Learn more

Firm Casebooks and Case Interview Guides
Some of these casebooks are also interactive and generally should be required reading if you are applying to one of these firms.


University Casebooks
Where business schools and their consulting clubs excel is in generating very large numbers of cases. These migth not be interactive, but provide plenty of material for those taking a "brute force" approach of crunching through as many case studies as possible.


University Case Videos
A few business schools and consulting clubs have created genuinely useful case interview videos. A couple of the better examples are shown below. Production standards can be slightly lower than their corporate equivalents, but the content remains excellent.

Fisher
Kenan-Flagler

This is the first in a series of videos from the Kenan-Flagler Consulting Club, which you can view in full here.

Prepping the right way

Mastering case cracking is a lot like learning a language. The more you practice, the better - however, that practice will be no good if you don't have the basics in place first. Someone who doesn't speak a word of Russian could listen to Russian radio all day every day for a year and learn nothing. However, if they already had the basics of vocabulary and grammar in place, listening to Russian radio would be a great way to cement and build their understanding of that language.
Precisely the same is true of case studies - you need to understand how to solve them properly before practice will be really useful.
How?

The best place to get all the business background (your consulting "vocabulary") and reasoning skills (your consulting "grammar") is with our MCC Academy case interview course. There we take you from finance and accounting basics, right through advanced reasoning skills, consulting math and our Problem Driven Structure case method. Far from the old-fashioned, unreliable frameworks many unsuccessful candidates prep with, our method has been devised as a streamlined, four-step version of the seven-step roadmap used by McKinsey consultants on real engagements.
You can learn more about MCC Academy here, as well as in the video below:
Practice with the best
Practising with a partner - perhaps one from our meeting board - beats practising solo. However, with the best will in the world, there is only so much you and another candidate with no actual consulting experience are going to be able to give one another in terms of feedback.

If you have invested the time to learn how to crack cases properly, it makes sense to then practice properly as well. The very best way to simulate a real consulting interview and to receive the kind of detailed feedback to really get up to the required level is to practice with a real consultant. Nobody else will be able to give you better feedback or help you progress so rapidly. Indeed, we find that receiving professional case coaching is the single largest difference-maker in terms of candidates landing job offers.
MyConsultingCoach offers the best quality coaching experience on the market. Instead of some shady directory of unvetted freelancers, we select all our coaches to have at least two year's consulting experience with either McKinsey, Bain or BCG, as well as existing coaching expertise. Our coaching experience is then designed to sync with the MCC Academy and other resources, providing a seamless learning experience.

Our feedback is provided via our advanced Performance Radar tool. This combines your coach's qualitative feedback with a statistical, quantitative assessment of your progress across key areas - just like we showed for our meeting board above, but assessed directly by a real, MBB consultant. This ensures you know exactly which skill areas to target, with MCC learning resources ready to help you do so.
Learn more about our coaching here.

Mentoring: Maximal Efficiency and Complete Peace of Mind
For those of you are taking your prep truly seriously, MyConsultingCoach also offers comprehensive mentoring programmes. Here, an experienced MBB consultant takes personal charge of planning and overseeing your whole preparation; editing your resume and cover letter if required, guiding you through our course material and planning when you should be having coaching sessions.

Not only does this offer the best possible chance of successfully landing a job, but it is also the most efficient way to use the time you have to prepare. This is especially important for time-poor professionals aiming to transition to management consulting from other high-workload jobs - or for busy students trying to balance interview prep with studying for finals. Where your time is scarce, you need to make sure that every hour you can spend on prep is used optimally.
Looking for an all-inclusive, peace of mind program?
Choose our mentoring programs to get access to all our resources, a customised study plan and a dedicated experienced MBB mentor
Learn more